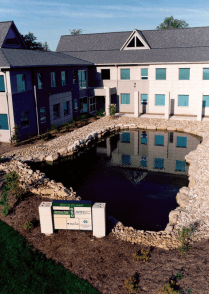 The ever-increasing need for low energy commercial building construction is felt throughout the world.
Green on the Grand is a collective design effort between Ian Cook Construction and Enermodal Engineering Ltd. Their vision was to create a building that featured significantly lower energy and environmental costs than conventional commercial buildings, heavily weighted towards energy and water conservation, whilst promoting a healthy internal environment and seeking greater leasing rates.
Bordering Ontario's Grand River, the smooth integration between the building and the landscape was another essential element to consider.
Super Spacer® – sustainable materials for efficient envelope design
Built on 1.4-acres in the Lancaster Corporate Centre site and covering 22,000 sq.ft, the selection of windows and doors was critical to issues of heat loss and heat gain through glazing. So, to accomplish comfortable indoor air quality throughout, all the windows were triple-glazed, double low-E coated, double argon filled and produced with flexible silicone Super Spacer®.
Measuring its success by lease-rates, bearing in mind that the commercial tenancy rate in Kitchener was less than 80%, when construction was completed, Green on the Grand was fully leased. Tracking its progress through its first year also reveals the annual energy savings were approximately $7,700, surpassing initial estimates by 10%.
High-efficiency, low-tech building design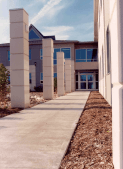 Constructed between 1995-1996, six years on from completion, Enermodal president and building designer Steven Carpenter praised the project, stating "Just for the record, we haven't had a single seal failure in any of our windows. All have operated just fine."
"The one surprise to me," he notes, "is that since we're very close to a multi-lane expressway, I've been very impressed with the windows' soundproofing. We have operable windows, and if you open one, suddenly you realize, 'Oh, I'm beside an expressway!"
"Windows are the most important thing to look at in trying to minimize summer cooling loads," added Carpenter.
LEED Silver Standard green building rating
The Leadership in Energy & Environmental Design standard (LEED) is a four-tiered credit-based rating system that awards points based on compliance with different aspects of sustainability. Impressively exceeding ASHRAE 90.1 energy efficiency guidelines by 50%, although Green on the Grand pre-dates the inception of the LEED rating system, it is estimated at a high LEED Silver standard. Achieving the highest grade offered by the BREEAM rating system, Green on the Grand was awarded outstanding in design and excellent in operation and maintenance.
For more information please visit www.edgetechig.co.uk