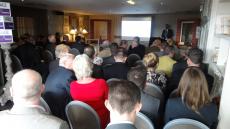 Building on its reputation for adding value to glazing Edgetech UK, a Quanex company, launched an exciting range of products for the manufacture and installation of value added windows at its 25th anniversary celebrations at Great John Street Hotel in Manchester.
Edgetech has been at the forefront of top energy efficient windows for 25 years, and this year it's expanded its product range for companies looking for ways to enhance their glazing or installation offering. Already this year, Edgetech has added TruPlas and TruPlas SDL to its ever expanding product portfolio, and now there are four more products creating new opportunities for IGU manufacturers, fabricators and installers.
High performance warm edge spacer bars
At its product launch in Manchester on 8 October, Edgetech showed guests the new additions Super Spacer Alpha, TruFit, TruSieve and TruShield.
"These new products are designed to support customers and dealers, enabling them to differentiate themselves with next generation, high performance products," said Andy Jones, Managing Director of Edgetech UK.
At the launch official thermal test results for its new foam spacer were revealed as 0.13W/m2K, making the Edgetech Super Spacer Alpha the best performing warm edge spacer bar in the world.
Edgetech also launched TruFit, warm edge for windows. It's an expanding tape that perfectly seals around the frame to the brickwork making the complete installation energy efficient and weathertight. So much of the UK's housing stock is older and it's difficult to get a good fit all round. TruFit reduces heat loss by up to 23 percent at the edge of the frame and saves up to 20 percent fitting time making it cost effective for both homeowner and installer.
During the presentation there was a live demonstration to show how fast, easy and clean TruFit is to install.
TruSieve desiccant was the third product addition. It gives IGU manufacturers a reliable and superior quality desiccant with high adsorption capacity keeping the unit free from moisture.
The final product was TruShield. It is a high quality coating that bonds to glass and makes it easy to clean. Unlike many other products, TruShield doesn't depend on specific environmental conditions. This means it will work in all locations, including north-facing windows as well as those in the sun, so the benefits will be seen even on shaded glass.
The product launch was part of the silver jubilee celebrations as Edgetech celebrates its 25th anniversary on 1 December 2014. Joined by long standing customers, suppliers and press, Edgetech's guests enjoyed spectacular views of the Manchester skyline from the rooftop of Great John Street Hotel.
Guest and longstanding customer Adrian Barraclough, Quickslide's CEO, added: "It's evident that
Edgetech is in business for the long term and it's very comforting to have a partner company who is at
the top of their game and continuously looking for ways to improve our industry efficiencies."