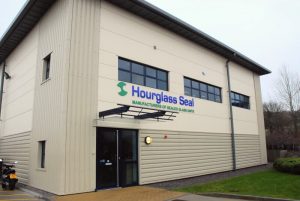 Innovative, reliable and widely respected, Hourglass is one of the UK's leading glass manufacturers – and, over a seven-year partnership with warm-edge experts Edgetech, the firm's market-leading products have gone from strength to strength.
A fully-automated Super Spacer line has allowed Hourglass to drastically streamline its manufacturing operation, and seen it become one of Edgetech's biggest customers.
Founded in 1975, Hourglass began life making decorative glass. It expanded rapidly in the decades that followed, beginning to perform all its own bending, UV bonding, laminating, metal work and decorative finishes on-site, and completing work on projects as varied and prestigious as the Royal Barge, the Victoria and Albert Museum, the Tower of London and F1 team McLaren's Technology Centre.
Today, the Gloucester-based business is able to offer one of the widest selections of bespoke glass products in the country – thanks in part to cutting-edge Edgetech innovation, as Claire Miller, Marketing Director of Hourglass parent group Customade Group, explains:
"Hourglass has built its business on a commitment to constantly pushing the boundaries of glass technology – and Edgetech has played a vital role in helping us sustain that.
"Super Spacer's outstanding performance ensures our glass units offer market-leading thermal efficiency and structural strength – while Edgetech's automation technology has allowed us to maintain quality even as we've significantly increased the numbers of units we produce. It's more important to us now than ever before as we plan to grow our glass sales dramatically over the next few years, so strong mutually supportive trading relationships are at the top of our agenda.
"We've enjoyed a good relationship with Edgetech over the past seven years and look forward to seeing how it develops in the months and years ahead."
Chris Alderson, Edgetech Managing Director, commented: "Hourglass is a classic example of success through innovation. Just like the Customade Group as a whole, which has helped put lantern roofs and domestic aluminium windows on the map, Hourglass is a pioneer in its field, and it's been a pleasure to watch them expand and develop over the last seven years.
"For us, it's a massive vote of confidence in Super Spacer and the Edgetech brand. When we're the spacer manufacturer of choice for such a progressive, growing company, we know we must be doing something right. Here's to the next seven years!"
For more information on Edgetech's range of spacers and to stay up-to-date with the latest developments from the company visit: www.edgetechig.co.uk
For information on the Customade group product ranges visit www.customade.co.uk