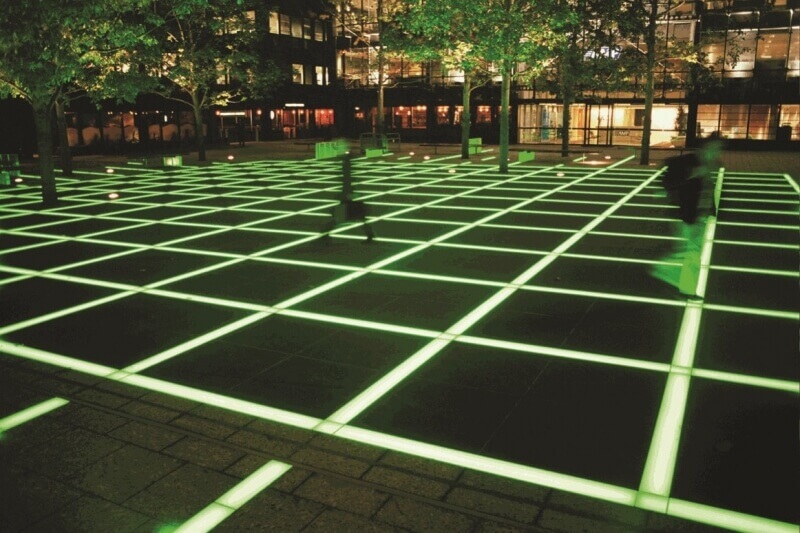 London's Finsbury Avenue Square is located in the heart of the city's financial district. The British Land Corporation, who manage the site, wanted to create a visually impressive exterior space to attract tourists and brighten up the journey of commuters passing through the square on their way to Liverpool Street Station. The renovation of the square was carried out by a company called Artistic Licence who designed and installed the LED lighting system.
Super Spacer specified for performance
The project is one of the world's largest exterior lighting installations. 100,000 colour changing LEDs were used with over 650 double glazed sealed units used to house the lighting. As a ground level exterior installation, it was essential that the glass units were as airtight as possible to limit the potential for water and air ingress which would have a negative impact on the light emission.
Managing Director of Artistic Licence, Wayne Howells had to thoroughly research his options when sourcing the best protective technology for the light boxes. He selected Edgetech's Super Spacer because of its superior performance and long guarantees stating:
"A unique project like this has to be done right. From the beginning the technical support was excellent. Someone was always available if we had questions."
An award-winning installation
The project, being based in such a high-profile location has attracted much interest since its completion. The 15cm wide LED light boxes produce a spectacular effect on passersby and thanks to the use of five different lengths, the effects range from half a metre to almost 2 metres. The intensity of the LED lights is computer controlled to produce over 16 million different shades with the square changing colour every night.
Since completion in 2004, the installation has won multiple awards including: 2004 Winner of Exterior Lighting by the Lighting Industry and Federation, and the Light and Design Award by IEIJ. It was also highly commended by the FX Awards in 2005. The installation has proven popular with locals and tourists alike, both of whom have been stunned by the visual spectacle which through the use of colour change lighting technology, can create ambient lighting from the softly subtle to the vividly vibrant.